How to add a new unit in "Al Badr point of sales software POS"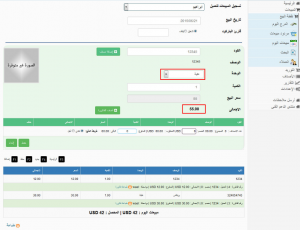 How to add a new unit in "Al Badr point of sales software POS" which is one of the best sales software in sales world as it has a lot of amazing features and reports with lots of abilities which will make you a successful business man whatever your activities types are.
A new unit addition in "Al Badr point of sales software POS"
"Al Badr Program for Sales" enables you to sell your products in different units. It's possible to sell for example by a piece, carton, sack, meter or any other unit that is suitable for your business.
How to sell in units:
Before selling in units, you should define them first to the program and to do that:
1- From the side menu, choose "products".
2- From products choose "units".
3- A screen of these defined units will appear.
4- You can add any number of units by clicking on the button "add a new button" and insert the unit name, then click on "save".
A new unit addition in "Al Badr point of sales software POS"
To define units for every item or edit the old ones or add a new item for the first time:
1- From the options, choose the main unit of the product whose price is the main price for selling this product at below in adding sub-units.
2- Choose the sub-unit, then assign how many main units are equal to one sub-unit so that the program can calculate the effect of this on the stock, then we assign the sub-unit price as it's different from the main unit price.
A new unit addition in "Al Badr point of sales software POS"
Notice that:
The main unit is always less than the sub-unit, and it's always used in the inventory where the sub-unit is always bigger.
For example:
At pharmacies, you will find that "ampoule" is main unit where the "packet" is the sub-unit.
At supermarkets, you will find that "packet" is main unit where the "carton" is the sub-unit.
1- After inserting the data of the sub-unit, click on "add".
2- Finally click on "save".
On selling and after choosing the product to sell, you will find a cell asks you to choose the unit you want to sell by and here, you can choose the desired unit.
A new unit addition in "Al Badr point of sales software POS"
In case of choosing the bigger unit or the sub-unit, the price will change directly as its price is different from the smaller unit or the main unit. This will definitely cause an effect on the stock as much as the number of main or sub that were taken.
A new unit addition in "Al Badr point of sales software POS"
Thanks to god, our program "Al Badr Program for Sales" has achieved a lot of success with a lot of customers in different fields because it's an integrated sales program with POS, a website, a phone application for marketing, programming an application for online store, a cashier program, restaurant program, accessories store program, mobile store program, Ceramic show program, car show program, clothing store program and shoe shops program where it can help you in different kind of business which can be managed and register its own invoices.
A new unit addition in "Al Badr point of sales software POS"
Some features of the program:
The program is in Arabic and English.
It's so easy to use, register and learn.
It doesn't need to be installed on the device.
You will not suffer the problems of changing or reinstalling the operating system copy.
Keeping your data in full privacy and secret.
It can run on any operating systems (Windows – Linux – Apple…).
Backup of database.
Wholesale and retail system for definite customers.
A new unit addition in "Al Badr point of sales software POS"
Multi users and permissions for each of them.
You are free to register manually or by bar-code.
The possibility of updating the program through our website.
You can use the one version for more than one device at your store without any need to buy extra copies.
You can login the program via your computer, laptop, tablet or mobile.
Protecting your data and commercial treatments with full confidentiality.
Some main features of the program:
Adding the products data (code – name – price – quantity).
Registering daily sales and purchases.
Displaying an inventory for the store to know the existed quantities at the store.
Alerts for the lacking products.
An automatic calculation for the total of the invoice and the discount without any need for the calculator.
Registering the expenses.
Printing a report for the expenses.
A new unit addition in "Al Badr point of sales software POS"
Reports:
Detailed reports to follow up your business daily, quickly and accurately.
Reports for the average of sale prices.
Reports for the inventory of stores.
Reports for suppliers and customers.
Reports for profits and losses.
Reports for sales and purchasing processes.
Reports for returns, stock and treasury.
Reports for Employees.
The Website of Al Badr Program for Sales:
It's one of our works. It's a program for sales, stores, cashier and points of sales which enables you to manage your business or activity with the possibility of adding endless products with their definitions. It's also enables you to control sale and purchasing processes completely, add suppliers with their accounts, sell by many different ways as cash or in term, making price offers or quotations, add taxes and service fees, print invoices and give detailed reports.
A new unit addition in "Al Badr point of sales software POS"
The advantages of the Website of Al Badr Program for Sales:
This website is compatible with the searching engines and this will help you to preside the first searching results.
It allows your customers to send their inquiries all the day and the possibility of answering them anywhere.
Opening new markets.
Activate a trial account of Al Badr Program for Sales.
Evaluating products and following up the customers' opinions.
Sending notifications for your customers to alert them with your new products without any need for calling them.
The website is designed to be suitable for all world users.
The website supports seven languages (Arabic – English – French – Turkish – Urdu – Chinese – Indian).
The website is so easy to use and can run on all smart devices as (computers – Smart phones – Tablets….).
The website is compatible with all versions of Windows, Linux and Apple.
The website has a distinctive easy use interface.
You can have the update of the program from our website.
There are educational lessons for how to use the program efficiently.
There are galleries for images and videos.
The website is linked to social media accounts as (Twitter, Facebook…..etc).
The website has the possibility of paying via the internet.
Chatting with customers through the website.
There is a contacting page for communications and inquiries.
You can contact us via our Email.
A new unit addition in "Al Badr point of sales software POS"
Purchases:
Recording data of purchased items.
The possibility of adding different prices for your items according to different customers.
Recording the purchasing prices and following up the prices of every day.
You can show the purchasing history data of every customer at any time you want.
Recording the data of returns.
Adding an image for each item as well as knowing the existed and lacking items in every branch or store.
It's so easy to record and recall any items through the bar-code reader or inserting the name manually.
A new unit addition in "Al Badr point of sales software POS"
Free updates:
There are free updates via our website all the time so your program will always be updated with the latest updates for free and this will save time and effort for users.
Technical support team:
There is a technical support team who is ready to answer all your inquiries via (phone – What's app – Email – live chat). This team is for giving solutions for all problems and to achieve the customers' demands.
Online stores:
Having an online store is an important step to keep up with the technological development for increasing the sales and profits via the internet.
Those online stores are full ready to help you show your products on them easily and start doing a lot of sales and this because our company is considered one of the best companies in designing the online stores where we offer you an integrated store with developed ideas which help you in sales process management easily. The design has an easy modern interface which helps you to increase your sales.
We also realize well that you want to market your online store, so we always make sure that your store must be compatible with the searching engines during its designing, and this means that we make your store a good friend to Google which will make your store in the first searching results.
Because "Al Badr Smart Systems" is the best company in designing websites, online stores and smart phone applications, we ensure you that the payment methods are fully secured 100% which will ensure the safety of sales and payment steps.